Where is the Bruce Lee grave located?
The first time I heard the Bruce Lee grave was in Seattle was when I was visiting with my parents before getting married.
Talk about excitement!
I had grown up idolizing Bruce Lee ever since I was a kid. I even had the bruises all over my body from trying to learn how to use some wooden nunchucks I got for my birthday.
I mean, hey, I was excited about getting married, but Bruce Lee's grave! How awesome is that?
It's one of the coolest places to visit in Seattle and if you go on a nice day, there is a spectacular view.
Some people don't realize that Bruce Lee isn't the only one buried there.
Bruce Lee is actually buried right next to his son, Brandon, who you might remember was killed during the taping of the movie, The Crow. Their grave sites are laid side by side with a small bench facing the graves.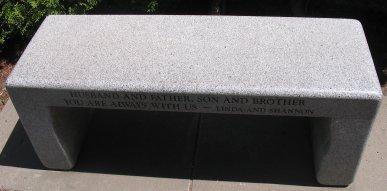 Every time I have been there to visit, someone else is there paying their respects, and it is by far the most visited site in the cemetery.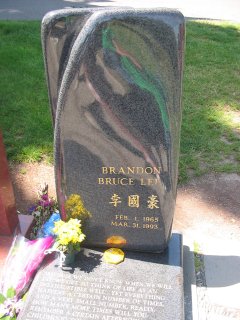 Supposedly the grass where Bruce Lee is buried has to be replaced every four months because it gets so many visitors. People are always leaving behind tributes and it is a nice place to sit and reflect under a shade tree nearby.
The view from the Bruce Lee grave site is spectacular and you'll want to be sure and get a picture of it.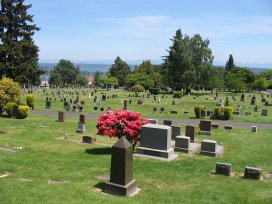 To visit the grave, just head a couple miles northeast of downtown Seattle. The actual address of the cemetery is:
Lakeview Cemetery
1554 15th. Ave. E
Seattle, WA
When you enter the cemetery, go up the hill and past the flagpole on the left. The graves are just northeast of the flagpole and I'm sure you'll probably see at least one other car parked nearby.
(And, hey, if you're really lucky, maybe it will be our car!)
Have A Great Story About Bruce Lee?
Do you have a great story about Bruce or Brandon? Share it!
What Other Visitors Have Said
Click below to see contributions from other visitors to this page...

Bruce Lee Movies

Bruce Lee was a great man and he was a very great martial arts teacher. Bruce was in a alot of movies like Enter the Dragon, Fist of Fury, The Game …
Visit Bruce and Brandon

I visited those graves last year around October. It seems that sometimes famous people have short lives. Those lives mean something to us, and the message …
Inspiried by Bruce Lee

As a young child I watched The Green Hornet , Nig fan of Kato and always wanted to train martial arts like he portrayed on the show. Yes I had a Lunch …
Bruce Lee Inspiration Not rated yet
Growing up in Taiwan in the late 70's and 80's, pictures of Bruce Lee were everywhere. I didn't think much of it other than that he is one of the biggest …
Bruce Lee Dream Come True Not rated yet
For years I had always wanted to visit Bruce Lee grave site and I finally got the chance to do so on rainy day july 20th 2012. It was a dream come true …
A Bruce Fan Forever Not rated yet
I first learned about Bruce being buried in Seattle from a fellow soldier during my assignment at Fort Lewis, WA back in 1979. He received a newspaper …
How Bruce Lee inspired me Not rated yet
Hey, I've been visiting Bruce Lee's memorial for 14 years. Not only was he a "kick-ass" martial artist, but he also was a philosopher! I've always …
childhood memories of bruce lee Not rated yet
I remember taking the bus downtown to watch Bruce Lee movies, and then coming out of the movies jumping around like we were Bruce, and me and my brother …
A Man who Loved Kung Fu, Nation and Family Not rated yet
I had known Bruce Lee for a long time. Since I was a kid. I had thought he was only a Hongkong super movie star, but I was wrong. Last week (from the time …
GPS Location of Bruce Lee Grave Not rated yet
From the flag pole turn & look towards Lake Washington. Walk less than 100 yards to the grave. GPS location to the grave is N47 38.025 W122 18.952
RIP Bruce Lee Not rated yet
My grandad had a picture taken with Bruce Lee, as he was a film producer. RIP BRUCE LEE
Back from The Bruce Lee Grave.