Take a break at
Bellevue City Park
One of my favorite parks in the Seattle region is the Bellevue City Park. An oasis sunk below all the skyscrapers dotting the downtown area, the park is a great place to go escape and spend a sunny afternoon.
The park is just across the street from the mall in Bellevue, and is a much-needed place to get away and enjoy the outdoors. Bellevue isn't known for it's huge parks or outdoor areas, so it's great to have a place right downtown where you can go and relax.
What to do at Bellevue City Park
First of all, the park isn't a huge one (say, like St. Edwards Park) but there is a small playground area where kids are always playing and running around.
But one thing they do have is a pretty cool waterfall thing that kids just can't stay away from. I thought for sure one of our boys was going to go head first right into the pool! I mean, hey, what kid doesn't like putting their hand in a pool of water or running it underneath a waterfall? Not our kids, that's for sure!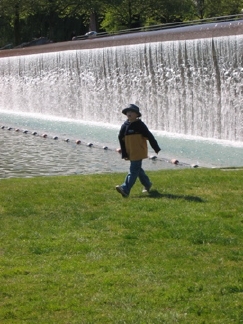 And because of the waterfall attraction, the last time we were there we got to see some baby ducks swimming around in the pool! Some people near us were even feeding the little ducks but we didn't have anything to feed them so we just watched them swim. We had just finished off our Jamba Juice afternoon snack and I don't know if ducks truly appreciate Orange-A-Peel quite like we do :)
But for me, ducks can only hold my attention so long before the sunny Seattle weather warms me up and makes me want to just relax on the grass. Not that I was able to sleep too long before three little boys started jumping me and begging me to go look at the ducks with them again.
But, anyway, Bellevue City Park is a pretty relaxing place to spend a few moments when you're tired of walking around the mall or just need a place to enjoy the outdoors a little. People come here to relax, and if the Seattle weather cooperates, that's what you'll want to do as well.
Don't Forget
Supposedly for the fourth of July one of the buildings nearby hosts a large fireworks show and people all hang out at the park to watch the show but I've never been personally so I can't say for sure. Still, though, if you're looking for a fourth of July hangout to watch some big sparks, Bellevue City Park might be the place to go. Just be sure to grab your Jamba Juice first!
Back from Bellevue City Park.