Alki Beach in Seattle
Alki beach in Seattle is not like a beach you might see in Hawaii or California.
In fact, as you can imagine, beaches in Seattle are a lot different: the water is colder, the beaches themselves are rockier, and the waves generally aren't as big.
However, there's something about the area around Alki beach there in West Seattle that I love.
So what is Alki Beach?
Well, the beach itself is a 2.5 mile long stretch of sand (I know, a psuedo-sandy beach in Seattle!) where you'll find all sorts of people hanging out during the summer either playing volleyball, rollerblading, scuba diving, or just watching kids play in the water.
Even though the water can be a little cold (around the mid-50s), you'll still see people decked out in their swimwear during those hot August days.
Alki Beach History
Alki Beach in Seattle is interesting historically because it was the place where the Denny party (the first white settlers in the region) landed. The natives (led by Chief Seattle) actually helped them survive that first winter, and the region subsequently became known as Alki.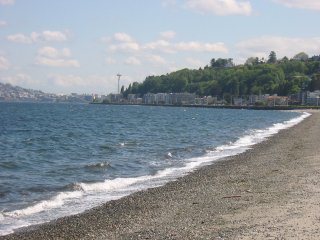 An amusement park was also built there in 1907 close to the beach and was built as the "Coney Island of the West." Those who lived in Alki saw the Alki beach region as a New York version and even now you can see a replica of the Statue of Liberty that was a gift from the Boy Scouts in 1952.
What to do at Alki Beach in Seattle
First and foremost, eat! There are some great places to grab a bite to eat, whether you're in the mood for some fish and chips at Spuds, something a little more sweet at Alki Bakery, or some down home cooking at Alki Homestead.
In addition to the food, it's great to just walk on the beach and watch the barges head up and down the water. It's also a great area if you like to go for drives with the windows down. The smell of the saltwater wafting through the car is something that can't be beat.
You can also go and check out the Alki Point Lighthouse if you're willing to do a little exploring.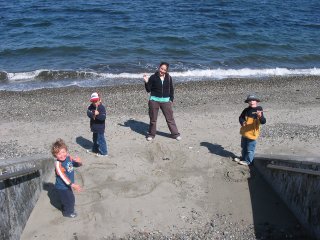 All in all, Alki beach in Seattle is a great area to spend the afternoon, or even the whole day. If you go on the weekend, it's probably better to head over there a little early since parking is only available on the street.
How to get there
If you're headed there by car and are coming from I-5 north or southbound (or from Aurora Ave), take the West Seattle Bridge to West Seattle, take the Harbor Ave/Avalon Way ramp, turn right on Harbor Ave SW, and then left on Alki Ave SW.
If you're up for some adventure, I've heard that there is a water taxi that takes off from Pier 55 in downtown Seattle. For the price of $2, that beats trying to find a parking spot.
Back from Alki beach in Seattle or see this page in Spanish (La Playa Alki en Seattle).
Have You Visited Alki Beach?
Do you have a great story about this location? Share it!
What Other Visitors Have Said
Click below to see contributions from other visitors to this page...

Alki Beach All Year Around Not rated yet
We've got family in Seattle and so we often visit at different times of the year. Sometimes we'll be there during the winter break and celebrate Christmas …