Seattle nightlife for the family
The Seattle nightlife was one of the first things I noticed on my first trip to the northwest. There is a plethora of coffee shops, bars, karaoke joints, and nightclubs, all competing for the crowd attracted to the evening scene.
But what about families? Is there anything that families can do together in Seattle once the sun goes down? Of course there is and hopefully we can give you a good idea of the different possibilities.
Sports in Seattle
Everyone that doesn't live in Seattle thinks of it as a a place for coffee drinkers and outdoor enthusiasts. (And don't forget the it's music notoriety.) But, believe it or not, Seattle is also a sports town.
Nearly every major professional sport is represented in Seattle. (The Seattle Supersonics basketball team, of course, being the most recent exception.)
There's nothing quite like going to a night game and watching the Mariners play some baseball or taking in a Seahawks game at Qwest Stadium. If you're not as much into football or baseball, though, there is always the Seattle Thunderbirds hockey team or the Major League Soccer team, the Seattle Sounders.
Seattle Nightlife on the Water
One of the things I love about Seattle is the water. You've got Lake Washington, the Sound, and Lake Union for starters. Well, a fun thing to do (even with the kids) is taking a theme cruise on the water. There are a few different companies that offer these types of cruises, but one that offers some specific cruises for families with kids is Argosy Cruises. They have a cruise during the Christmas season called the Family Night Early Dinner and Parade where Santa is on board and arts and crafts are available.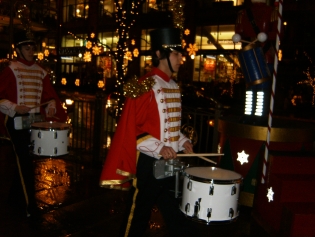 Concerts and Festivals
There are some great Seattle festivals held every year here. Many of these festivals last through the day and into the night and are great places for families. There's everything from the Northwest Folklife Festival in May to Seafair in August. You're sure to find something happening while you're there.
Plus, don't miss out on your chance to get a concert ticket in Seattle for that show you've always wanted to see.
Play Some Games
If you're looking for a place to take your kids where they'll have a great time and you can let them run around a little, you might want to try Gameworks. What is Gameworks? Well, it's basically a big entertainment facility that includes video games, food, and a whole lot of fun.
I've been to Gameworks locations in both Vegas and Seattle, and haven't been disappointed. There are a few different locations in Seattle, so you might want to check which Gameworks location in Seattle is closest to where you're staying. The only thing to remember, though, is that kids under 18 are not allowed in Gameworks after 10:00 PM.
So if you're looking for something to do with your family after the sun goes down, you do have some Seattle nightlife options that are family appropriate.
Return from Seattle Nightlife back to Seattle Tourist.
Best thing to do at night in Seattle?
Do you have a great story about this? Share it!