Burke Natural History Museum
If not for the Burke Natural History Museum, many people might never even know who Thomas Burke was. In addition to serving as the Washington territory Supreme Court chief justice from 1888 to 1889, Burke was a major civic activist who was very interested in promoting various projects in Seattle.
Now because of his service, the only major natural history museum in the Pacific Northwest (and Washington State's oldest museum) bears his name.
Nowhere else in the region boasts over 12 million artifacts including dinosaur fossils and gemstones, along with the largest collection of bird skeletons in the world. While the museum is mostly research-focused, it's major focus is natural history and artifacts and is a wonderful place to take your family.
Museum Information
The Burke Natural History Museum is located on the University of Washington campus on the corner of 17th Ave NE and NE 45th Street. The museum is usually open daily from 10 to 5, but if that's not good for your schedule, you can go instead on the first Thursday of each month when it stays open until 8pm. Another good thing about going on the first Thursday of each month is that admission is free! Now how's that for a sweet deal?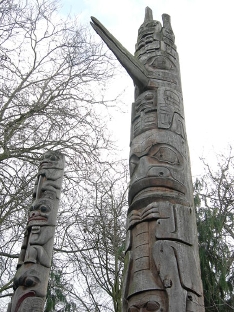 There is parking available near the museum on campus itself, but you'll need to be sure and tell the guard that you're coming to visit the museum and he/she will direct you to the right parking lot.
Long-Term Exhibits
In addition to the regular exhibits of fossils and minerals, there are a few long-term exhibits at the Burke Natural History Museum that are pretty exceptional:
Life and Times of Washington State
This exhibit is all about the past half a billion years with displays showing geological, biological, and archaeological specimens. OK, sounds kind of boring until you realize that in addition to the 40-million-year-old fossil crabs, there's also a cast of a 10,000-year-old mastadon, along with a 20,000-year-old saber-toothed cat. One thing that's especially cool is that a 12,000-year-old giant ground sloth that was found during construction at Sea-Tac Airport is on display!"
Pacific Voices
If you're interested in the culture of the people that have inhabited the Pacific Rim, this is the exhibit that you'll want to save some time for. There are about 17 different cultures featured and you can learn more specifics on things like their language, teachings, and some very cool artifacts that they have used.
Erna Gunther Ethnobotanical Garden
So if the culture of Pacific Rim people doesn't get you excited, you might be interested this exhibit that features plants and vegetation important for Native Americans originally from the Pacific Northwest. While this exhibit probably won't keep younger kids entertained, it might be interesting for older kids that are interested in how our environment has been able to help people throughout history.
| | |
| --- | --- |
| | If the Burke Natural History Museum sounds like something you'd like to visit, make sure you pick up a Go Seattle Card. Not only will you get into the Burke Museum for free, but you'll also get access to a bunch of other tourist attractions in Seattle. It's really the best way to see Seattle. |
Back from Burke Natural History Museum.