What is the Fremont Bridge Troll?
For starters, the Fremont Bridge Troll is one of the craziest statues I've ever seen.
Just outside Seattle there's an area known as the Fremont District. Talk about an interesting place to hang out!
There are all sorts of things that you can see here, everything from a huge statue of Lenin to the Rocket at the Center of the Universe.
However, one of the coolest things to see in Fremont is the Fremont troll bridge.
I had never ever seen something like it in my life and I'm sure you've never seen anything like it either.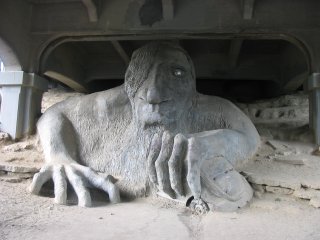 What it is is a huge statue of a troll underneath the Hwy. 99 Aurora Bridge at N. 36th St. It's not actually under the Fremont Bridge, but it is located in Fremont. It was project designed and built in 1990 by Steve Badanes, Will Martin, Donna Walter, and Ross Whitehead, sponsored by the Fremont Arts Council.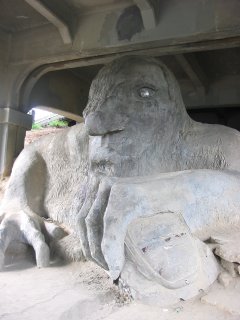 You can park on one of the side streets and walk up to it. You can even climb on it and behind it. The kids thought it was so cool and we had to drag them away when it was time for us to leave.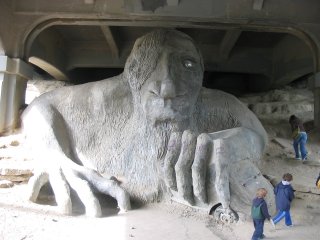 Be sure to take a bunch of pictures and check out the hubcap that is one of the troll's eyes. It's great.
Have A Great Story About This Place?
Do you have a great story about this? Share it!
What Other Visitors Have Said
Click below to see contributions from other visitors to this page...

Seattle Bridge Troll Not rated yet
What a crazy troll statue in Seattle! We had no idea this kind of thing even existed until we showed up in Fremont and somebody told us about it. The kids …
---
Back from
the Fremont Bridge Troll
.