The Skagit Valley Tulip Festival
You've never seen this many tulips before in your life!
If you've never heard of the Skagit Valley Tulip Festival, you're in for a treat. Some of the best things about Seattle aren't even located in the Seattle area.
For these, you have to venture outside the city limits and spend an hour or two on the road. One event worth strapping the kids in the car for is the Skagit Valley Tulip Festival.
Just last weekend we went to this year's festival and let me say that the Tulip Festival isn't your average variety flower and garden show, but rather a month-long event where people can go and check out fields and fields of tulips, daffodils, irises, and other gorgeous flowers.
In addition to the fields, there are events that happen in and around the different towns the fields are located in, ranging from things like wine tasting to street fairs. When we went, there was a street fair in downtown Mount Vernon that had all sorts of cool shops and booths (not to mention the food!).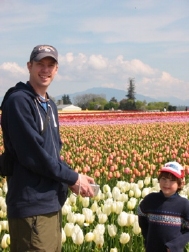 The interesting thing about the Seattle Tulip Festival is that it very much depends on the weather. This year we went a little too late and so we were only able to see tulip fields. The other flower fields had already bloomed and died.
Many of the tulips had even already been cut, though, because it was getting late in the season; so when you come, you'll want to try and make it out earlier than later. Lucky for us, one of our sons said that his favorite flowers are dandelions so we were able to see plenty of those everywhere we went!
This year, there were two main flower farms in Mt. Vernon. They both cost a small amount of money to enter (a few bucks per adult) but well worth being able to see the beautiful flower gardens and fields. When we went, we went to Tulip Towne located on Bradshaw Rd. The Roozengaarde and Washington Bulb Co. is the other one there in Mt. Vernon and while we didn't walk into the farm, it was plenty busy judging from all the cars parked nearby!
There was a lot of people there with their cameras taking pictures and we were even able to get some good shots of the tulip fields. (Don't worry if you're not as handy with the camera; there are some little shops there where you can buy posters and postcards of the tulip fields. You can then try to pass them off as your own photos. I won't tell anyone...) Do be careful if you have someone take your picture; we had a couple people offer to take pictures of our family but neither person was very adept at a digital camera and the pictures didn't come out very well. Luckily, we did manage to get a decent one in the end.
The farms at the Skagit Valley Tulip Festival are more than just fields and fields of flowers. There are of course flower shops where you can buy some freshly cut tulips to take back to Seattle for those inevitable gray days ahead. They also sell cool posters and paintings that are done by local artists.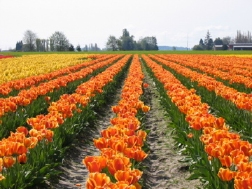 So would I recommend the Skagit Valley Tulip Festival? Well, only if you love nature, flowers, plants, the outdoors, beautiful landscapes, photography, picturesque settings... basically if you love anything that takes your breath away, you should definitely make it a point to check it out if you're there during the month of April.
If you want more information like exact dates, times, field locations, event listings, etc., visit the official Skagit Valley Tulip Festival website. It's got some great features that will help you plan the best time to go (the bloom dates are continually updated) and what else you might want to see (besides the flowers, of course).
Back from the Skagit Valley Tulip Festival.