Haven't been to Dicks Hamburgers? What are you waiting for?
Dicks Hamburgers has been around Seattle for decades now (it opened in 1954), and is a must-stop on your trip(s) to the Northwest.
Dick's Drive-In is a hamburger joint with five locations around Seattle that serves your basic hamburger/cheeseburger, milkshakes, and french fries.
The fries are the soggy-type fries which I know some people love.
The burgers are pretty greasy but sitting in your car eating a Dick's burger is an experience that you won't want to miss.
And finally, the milkshakes are pretty good (I always get the strawberry ones).
The place can get pretty crazy around lunchtime with cars parking all over the place trying to find a spot. Either get there early or wait until after the lunch rush, but whatever you choose, it will be worth the wait and the trouble.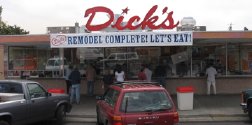 In all the times we've been to Seattle, we've been to a few of the Dick's locations and have never been disappointed. You can find Dick's in Wallingford, Capitol Hill, Ballard, Lake City, and Queen Ann. Here are the directions to the various Dicks Hamburgers drive-ins around the area.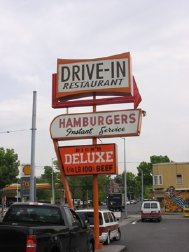 This is the Dick's burger joint in Wallingford. It's in a great location just down from the Woodland Park Zoo, and it seems like every time we hit the zoo, we stop at Dick's afterwards for a quick bite.
One thing you'll need to remember, though, is that Dick's is still a little old school and only takes cash, no credit cards accepted. The last thing you want is to be ready to eat a nice cheeseburger and strawberry shake, get up to the window, and then realize you don't have any cash on you. I've been there, and don't want to go through that again!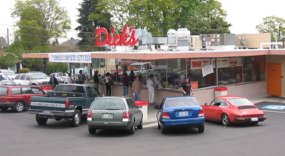 It's open 7 days a week from 10:30 AM - 2:00 AM, so there's no excuse for not going.
Back from Dick's Hamburgers.