Woodland Park Zoo Seattle
Lions and tigers and... butterflies?!
The Woodland Park Zoo Seattle is one of our kids' favorite places to visit each time we go to the Northwest.
Most kids seem to love zoos in general, and ours love everything that the Woodland Park Zoo has to offer. The zoo is located in Woodland Park just north of Fremont, and while it may not be the biggest zoo we've ever been to, it's got a bunch of cool exhibits that the kids (and adults) love.
There is plenty of parking at the zoo, but there are still some days when it fills up fast and if you're late, you won't find any place to park.
We tried to go on a Saturday once at around 11:00 in the morning, but there was nowhere to park and we finally had to give up and go somewhere else, much to the disappointment of the kids.
(On a side note, we ended up going into downtown to see the Seattle Science Center and they quickly forgot about the zoo!)
We did end up going back to the zoo on a Friday, though, and got in without too much hassle. However, it's good to remember that on Fridays, there are sometimes a lot of school groups that go to visit the Seattle Zoo so there will be a lot of kids running around.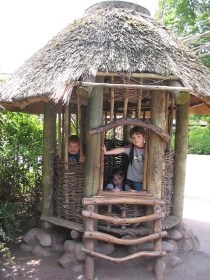 One of my favorite things about visiting the Woodland Park Zoo Seattle is that they have done a good job at keeping the northwest feel inside the zoo. Trees are everywhere and you feel like your continuously walking under a canopy of trees. It's great for the kids, too, because it keeps the sun off them for at least part of the time.
Of course, what the kids like is the most important, and there is plenty for them to enjoy. While were were there the last time, there was an African exhibit where kids could learn all about the various tribes in Africa. They even had some cool-looking huts that the kids could climb into, and needless to say, that's just what they did.
Of course, the animals are the biggest attractions at the zoo, and there is no shortage of these at the Seattle Zoo. Everything from giraffes to monkeys to the bird sanctuary captured the attention of our boys. Do watch out for the bird droppings, though. We almost had a few mishaps. (Thank goodness for baby wipes!)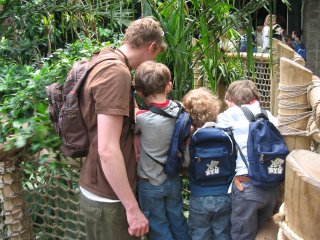 If you can plan your visit a little better than we did, you'll want to make sure you're there when the famous Woodland Park Zoo Butterfly exhibit is open. It's only open from May to September and my wife was really disappointed last time we went because it hadn't opened yet for the season.
The Woodland Park Zoo Seattle can be a bit tiring for everyone, but it's a cool place to hang out... as long as you can take a nap afterwards!
If you need something to eat, head on over to Dick's Hamburgers in Wallingford for a bite.
Obviously it does cost money to get into the Woodland Park Zoo, but if you're looking for a great way to see a ton of surrounding Seattle attractions and museums, you might want to get the Go Seattle Card
. The Woodland Park Zoo is included with a purchase of this card, so it's a pretty sweet deal.
Back from the Woodland Park Zoo Seattle.