The Science Fiction Museum Seattle
A lot of Seattle tourists have never heard of the Science Fiction Museum Seattle or the Experience Music Project, but if you head over to where the Space Needle is, you're bound to see it.
The Experience Music Project and the Science Fiction Museum are actually housed in the same building. The EMP officially opened its doors in 2000, and it wasn't until four years later that the SFM opened its doors.
So what is the SFM? Well, it's actually the first museum in the world dedicated to science fiction experiences and ideas. The purpose of the museum and its exhibitions is to (obviously) promote science fiction literature.
There's also a Science Fiction Hall of Fame in the building, which basically highlights some of the world's most renowned science fiction writers, artists, and filmmakers.
There's a parking lot right across from the museum that's perfect for visiting the area. We usually park in that lot and then go and visit all the attractions in the Seattle Center Park: the Space Needle, the the Seattle Center monorail, and the Pacific Science Center (just to name a few). Make sure you get there earlier in the day so that there will still be parking available. If you go during the week, you shouldn't have a problem finding a spot.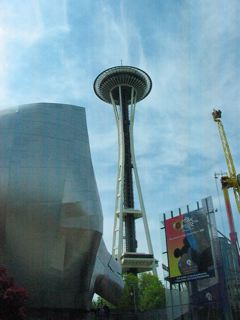 The museum is open from 10:00 to 5:00 every day (it stays open an additional two hours during the summer, May ~ Sep), but if you're in Seattle on the first Thursday evening of every month, you can get in free between 5:00 and 8:00 which is cool. These nights (called All Access Nights), they have free live music.
One unfortunate thing about visiting the Science Fiction Museum Seattle is that you can't take pictures or videos inside any of the galleries. But when you see how cool the outside of the building is, you'll realize that the inside has got to be pretty awesome, too.
Tickets aren't too bad (about $15 for adults) but you get a great deal with one of the Seattle discount cards like the Go Seattle Card
and you'll be able to save some serious money, even if you're only buying a few tickets.
Back from Science Fiction Museum Seattle.