Seattle Car Show
The Seattle Car Show, while no classic car show, does attempt to excite and awe, and in this it does not disappoint.
Back when I was a kid, one of my favorite things to do with my dad was go to classic car shows. We didn't end up going to too many, and maybe that's why the memories of the ones we did go to have really stuck with me all these years. Regardless, they have, and ever since I was a kid, I've had this place in my heart for car shows.
We'd show up to the show, and just take our time looking at all the old cars, and all the car owners who took great pride in their rides, interested in showing them off to whoever cared to look, and starting them up once in a while so the spectators could listen to the engines run.
It was very cool for a kid like me and being there with my dad made it all the much better. Since I was a kid, though, I haven't made time to go to too many car shows, and so I was excited to find out recently about the Seattle International Auto Show.
The Seattle Auto Show
However, before I talk about this auto show in Seattle, let me just say that this isn't really anything like those classic car shows I used to go to as a kid.
Granted, some elements are similar and there are some really cool cars there to see, but the feel just isn't the same one you get going to an outdoor classic car show on a Saturday morning during the Spring, eating barbecue while listening to dueling muscle car engines.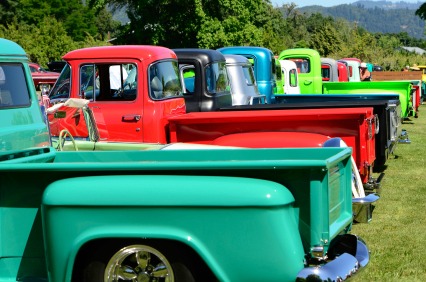 OK, so now that that's out of the way, let me say a few things about this show in Seattle.
While I'm not sure how long the Seattle Car Show has been around, it has become a rather popular Seattle attraction for the past couple of years.
This event is traditionally held during October or November every year for about 3-5 days and has been held most recently in the Qwest Stadium (now called CenturyLink Field) event center.
BTW, I really hate that name, CenturyLink. It's going to be a while before I get used to that.
OK, so it's held during this time of the year, and the show is usually open from around 10:00 AM to about 9:00 PM during the week or so that it's running, which makes it nice for people who are working to be able to get to the show without having to take time off work.
Now the price.
It's actually not too expensive, which was kind of surprising to me the first time I decided to go. So many things around here in Seattle are just so expensive, and if you have kids and a family, the price can really add up.
Depressing.
But thankfully, the Seattle International Auto Show organizers have decided to spare the public somewhat by only charging $13 for anyone over 13 years old (this is as of the November 2011 car show), and making it free for anyone under 12.
Well, that's perfect for me since I've got four kids under 12, so they all get in free, and we're only spending $13 for my, the old man.
Very cool.
What can you see at the Seattle car show?
This is the most important question you'll want to answer before you head to the Seattle car show because if there isn't anything there you're interested in seeing, what's the point, right?
Well, what's nice about this car show is that you'll be able to see a little bit of everything.
You've got rare cars.
You've got concept cars.
You've got expensive (really expensive!) cars.
And you've got cheap cars.
So basically, whatever kind of car you might be interested in you'll be able to see at the Seattle auto show. And unlike those classic car shows of my youth, the Seattle International Auto Show isn't strictly a show-and-tell for auto manufacturers.
It's actually a chance for car makers to sell cars to the public.
What does that mean?
Well, if you're interested in buying a car, or even test driving one of the newest models of cars, the Seattle Auto Show is a great place to do that.
For example, the 2011 car show is going have over 400 2012 makes and models of both domestic and import cars, running the gamut from sedans and vans to alternative fuel vehicles and supercars. Now before you get too excited, I'll say that you won't be able to test drive all the cars, but you will be able to drive some of them.
Now you won't necessarily be able to purchase any of the cars at the Seattle car show, but naturally you will be able to connect with the manufacturers that sell the vehicle(s) you're interested in.
And for those of you who aren't buying but "just looking" make sure you bring your camera because you are more than welcome to take pictures of any of the vehicles there. Then, 10 years from now when you see that funky concept car from the show actually on sale at your local dealership, you have proof that you saw it before all your friends!
And for people like me that have a nostalgic feeling for the classic cars of old, the Seattle car show even accommodates for that: The organizers usually team up with the LeMay Museum, which, if you haven't heard of yet, you will, as it is on track to be the largest auto museum in the world.
So you'll have your classic car fix, not to worry.
---
Return from
Seattle Car Show
back to
Seattle Festivals
.
Have you been to the auto show?
Do you have a great story about this? Share it!