Seattle Marathon "Fun Run" Anyone?
If you like running and looking for a place to lay it all out, the Seattle Marathon might be just what you're looking for.
I've never been much of a runner unless it's preceded by a good swim and followed by a nice bike ride :) but if you are someone who likes to go for a nice "26.2-mile fun run" then Seattle is a great place to do one. There are a few different marathons that take place in Washington during the year, but one that has been around for awhile is the Seattle Marathon.
It seems like most big races start out with a few people sitting around wondering what it would be like to almost kill themselves with herculean feats (Hawaiian Ironman, anyone?). Well, the Seattle Marathon pretty much started out the same way. It was 1970 when 38 runners got together and wondered what it would be like to run all over the city for 20+ miles. Well, when it was all over, 31 of the 38 actually finished the marathon challenge and the race was born.
The race is now traditionally held on the last Sunday of November (yeah, right when the temperature is getting pretty chilly) and it usually attracts a fair number of race participants every year. There aren't as many people standing along the race route in close to freezing weather, but the ones that do are pretty enthusiastic, which makes for a good time.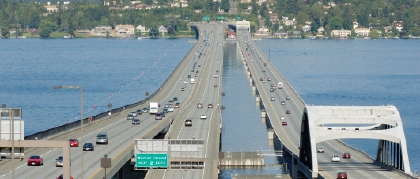 The race route has pretty much been the same since it's inception, starting at the Experience Music Project/Science Fiction Museum at the Seattle Center, heading over I-90, and then coming back and ending at Memorial Stadium. This is one of the highlights of the race. Not too many races end up like the Olympics where you finish inside a stadium, and this is definitely a highlight for many of the runners. Also, if you've never seen the I-90 heading into Mercer Island, it's an extraordinary stretch of Interstate used by cyclists and runners in addition to vehicles.
Even though the marathon in Seattle has a loyal following, there are some things that runners have complained about in the past, including the small number of bathrooms along the race route (seriously, race organizers, it's November, it's cold, and people are going to have to use the bathroom along the route). Also, as I mentioned earlier, there aren't too many spectators because it's cold outside, but hey, you're probably not running the marathon to look good for others. I don't think I've ever seen anyone looking too stunning crossing the finish line after 20+ miles.
So, anyway, if you're looking for a good run to do in a cool city, the Seattle Marathon is sure to fit the bill. Just make sure you use the restroom before the race!
Back from the Seattle marathon.